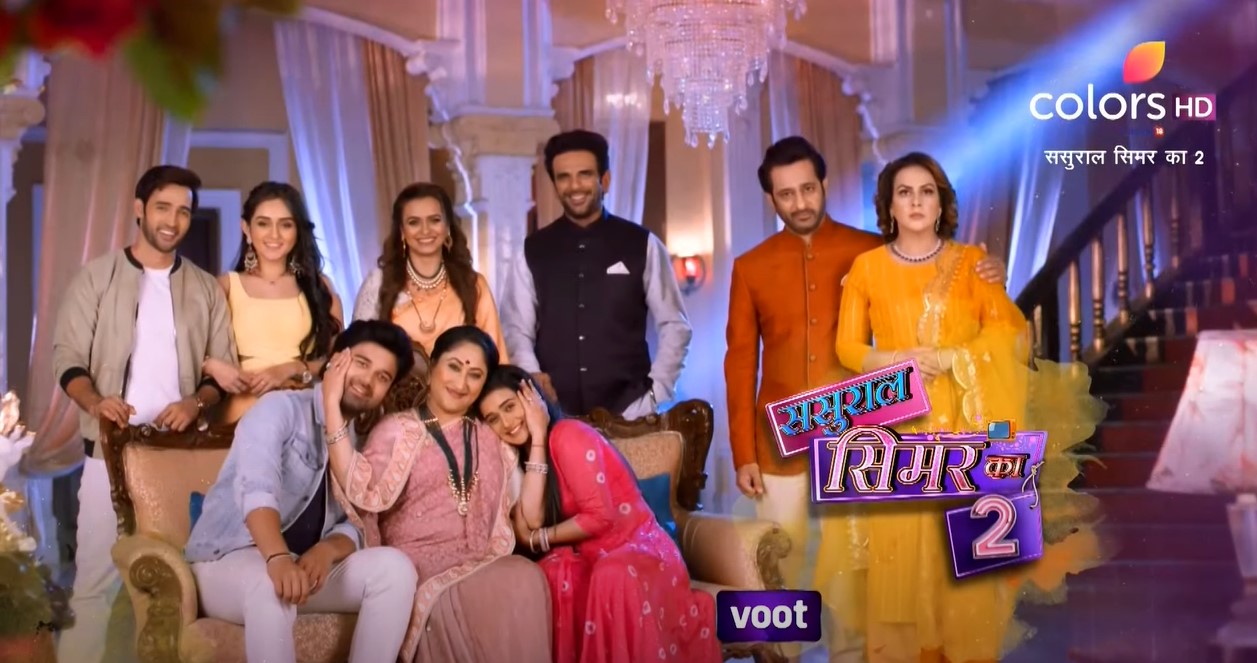 Sasural Simar Ka 2 5th August 2022 Written Episode, Written Update on TellyUpdates.com
The Episode starts with Aarav asking Simar, why is she taking stress? Simar says she doesn't know anything rather than simplicity. She says Ishita is a fashion queen and she will do anything to win this challenge. Aarav says you are overthinking and asks her not to think. Simar says I can't do this. He asks what you can't do, you will do surely, you will become part of this fashion show and will win too. She asks if you really think. He says I know that you can win and says simplicity is a charm and you have that charm, you will represent every woman who is taunted for connected to their roots, who will become the reflection of every woman whose simplicity will be called as lack of imagination, you will become the epitome for every example who doubt their simplicity, and says you will win for all those and will make all of them win.
Ishita tells Chitra that Simar has invited the trouble and jumped in the field whose rules she doesn't know, says she is opener, bowler and referee. Chitra appreciates her. Reema brings books and asks Simar to do ramp walk keeping them on the head. Simar starts walking and the books falls down her head. Reema shows to do ramp walk keeping the books on her head. Simar tries. Everyone claps for her. Reema says now its time for heels. Simar says heels. Reema says it is important for ramp walk. Sandhya asks Simar to wear it. Aarav says he will make her wear. Simar says she will wear it. Chitra and Ishita hear the noise and comes out, sees Simar doing ramp walk. Reyansh comes there and says Simar and other can win and you might lose like a tortoise. He says they have Reema like trump card with them. Ishita says she will snatch Reema from Simar. Simar slips and falls down. Aarav and others get concerned. Ishita smirks.
Reema plans Simar's ramp walk on the stage. Ishita asks if you have taken retirement from her career and says models do all this after retirement. Reema says don't worry about my career. Ishita says you was glowing while hosting my marriage and you was trending on social media too. She says you are glamorous and beautiful and what are you doing, you are training Simar, and missing your golden time period. She says Simar will lose then what will say about your image. She says Rudra called me four times, as you are not picking the call and told that he has a big contract for you in Mumbai. She says such chances don't come. She asks her to decide and walks away smirking. Reema gets thinking.
Next day, Simar takes Mata Rani's blessings and then Badimaa's blessings. Badimaa blesses that her day shall be good. She says Jai Maa Durga. Aarav tells Simar, that today is the big day. Simar says she is nervous. Aarav says Mata Rani will give you courage, with which you will win. Gajendra says our trust says that like always, you will win. Giriraj says you have won big fights, it is a small fight, and says God bless you. Sandhya makes her eat sugar and curd. She says I have no doubt that the winner is going to be my Simar and asks God to keep her blessed. Pallavi asks Ishita if she is ready to defeat Simar. Ishita says I have played my trick, Reema might have backed off by now, Simar has to bend down in my feet and apologizes to me. Chitra asks Ishita, if all set. She says yes. All Oswals come there. Simar comes there, followed by Reema. Chitra and Ishita are shocked. Chitra says Reema is coming with Simar, and says I had given you one work and you couldn't do. Reema comes to Ishita and says I came in your talks for sometime, and thought to back off and then realized I am not Ishita, but Reema. She says she doesn't back stab and she loves her family too, though she loves herself first. Simar comes there and says a sister can't leave other sister. Ishita says my foot. Reema gives wireless earphones to Simar and asks her to follow her instructions. She says you are my tigress and shall smile on stage. Aarav says Badimaa's eyes are searching you, she can't stay away from you. Reema asks the designer to bring her costume. Ishita cuts Simar's dress. Chitra looks at her.
Aarav and Sandhya ask Simar to show that she is best. Everyone is shocked to see the costume brought by the designer. Reema takes it. Simar says I have to wear this, how is this possible. Sandhya says this is Ishita's conspiracy, what does she think of herself. Aarav says Simar, you can carry any outfit, you have grace and will make anything look good. Simar is tensed and says if I fail, if this dress doesn't suit me, then? He says if, but and may be are the words which stops from walking further. He says until you have confidence covers with elders' blessings, then you will carry this outfit. He asks her to wake up her confidence. He kisses on her forehead and goes out, saying he will send Reema inside. He signs her to smile.
Precap: The fashion show begins, Simar comes to the ramp. Badimaa comes there and looks at her. Simar gets teary eyes. Aarav and Vivaan get worried.

Update Credit to: H Hasan