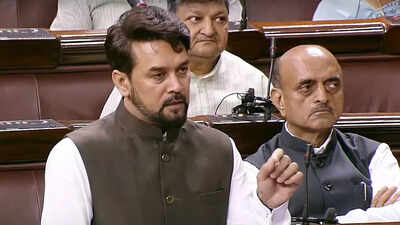 Sports and Youth Affairs Minister Anurag Thakur (ANI photo)
New Delhi: Parliament on Wednesday passed a bill that seeks to provide a statutory framework for the functioning of National Anti-Doping Agency And this National Dope Testing Laboratory,
National Anti-Doping Bill, 2022 was passed by voice vote in the Rajya Sabha. The Lok Sabha had cleared it last week with some official amendments.
Minister of Sports and Youth Affairs Anurag Thakur Responding to the debate on the bill, he said that currently India can conduct only 6,000 tests a year, and the law will go a long way in ramping up testing capacity.
He added that the number of tests required to hold any major international championship could be as high as 10,000 per month.
Thakur also said that with the passage of the bill, India would be among the few club nations such as the US, China, Japan and France that have their own laws to check doping in sports.
Several amendments introduced by the opposition were rejected.
The bill aims to "provide a statutory framework for the operation of the National Anti-Doping Agency (NADA), National Dope Testing Laboratory (NDTL) and other dope testing laboratories, and for the creation of a National Anti-Doping Board. In sports to strengthen anti-counterfeiting activities".
It seeks to give NADA "powers to investigate, impose sanctions for violation of anti-doping rules, disciplinary procedures to be followed and inspections, sample collection and sharing and free flow of information".
It also provides for setting up of NDTL and other dope testing laboratories.
Follow us on Social Media
FacebookTwitterinstagramKu APPyoutube
,

Source