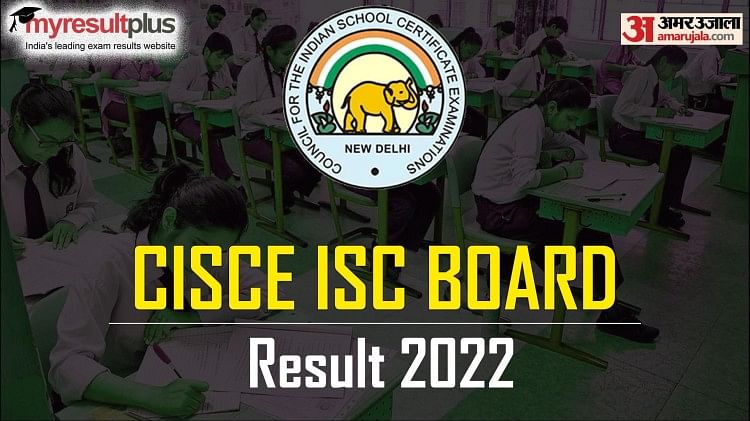 ISC Class 12th Results 2022
– PC : My Result Plus
The Council for the Indian School Certificate Examinations (CISCE) is expected to announce the ISC Result 2022 for semester 2 exams today, July 24. However, several media reports have claimed that in case the results for intermediate students are not announced today, then they are prone to be released tomorrow, July 25.
Once the board declares the results, the scorecards of the students shall be published on the official website of CISCE at cisce.org.
ISC Results LIVE

01:14 PM, 24-Jul-2022
ISC Results 2022: Previous Years Topper List 2017
Ananya Maity was the first-place holder with 99.5 per cent marks.
01:13 PM, 24-Jul-2022
ISC Results 2022: Previous Years Topper List 2018
Seven students captured the first spot in 2018, namely, Abhijanan Chakraborty, Radhika Chandra, Saman Waheed, Sakshi Pradunan, Lipika Agarwal, Koushiki Dasgupta Chaudhary and Tansa Kartik Shah.
01:04 PM, 24-Jul-2022
ISC Results 2022: Previous Years Topper List 2019
Devang Kumar Aggarwal emerged as the National Topper, with a perfect 100% in the ISC exams. However, he shared the rank with another student named Vibha Swaminathan. 
11:44 AM, 24-Jul-2022
ISC Final Results 2022: Equal Weightage to Both Terms
CISE Will declare the final results giving eqaul weightage to Term 1 and Term 2 results 
11:38 AM, 24-Jul-2022
CISCE Class 12 Results: 2 Semester Assessment Model Adopted
This year CISCE adopted a 2 Semester assessment Model pertaining to the Covid situation in the country
11:22 AM, 24-Jul-2022
ISC Class 12 Results 2022: ICSE Class 10th Results Released Last week
CISCE released the Results for the ICSE Class last Sunday, July 17. The passing percentage for class 10th records at 99.97% in 2022
11:19 AM, 24-Jul-2022
CISCE Results 2022: Official Confirmation Still Awaiting
CISCE is yet to release the results update on the official websites.  Students are advised to regularly check the  CISCE.org to get their results.
 
11:16 AM, 24-Jul-2022
ISC Results 2022: Website to Check Results
The students who have appeared for the CISCE  ISC Class 12th Can check the Results on the Following Websites
 
10:24 AM, 24-Jul-2022
ISC Results 2022 LIVE: CISCE Likely to Declare Results Today, Get Lastst Updates Here
ISC Result 2022: Here's How to Download Scorecards From Official Website
 
Class 12 students must adhere to the simple steps mentioned below in order to download their respective scorecards for Semester 2 exams.
Log on to the board's official website at cisce.org.
Search for the link to check ISC Result 2022, which shall be activated post result declaration.
It will redirect you to a new login page. Enter the login credentials in the blank space, such as UID, Index number and captcha code.
Submit the details. The ISC Semester 2 scorecard will appear on the screen.
Carefully check for all important details listed on the scorecard, like marks obtained in individual subjects, overall marks obtained and personal information. Download the scorecard on your device.
Obtain its hard copy for future references.
Related Articles

on Results
.

Source