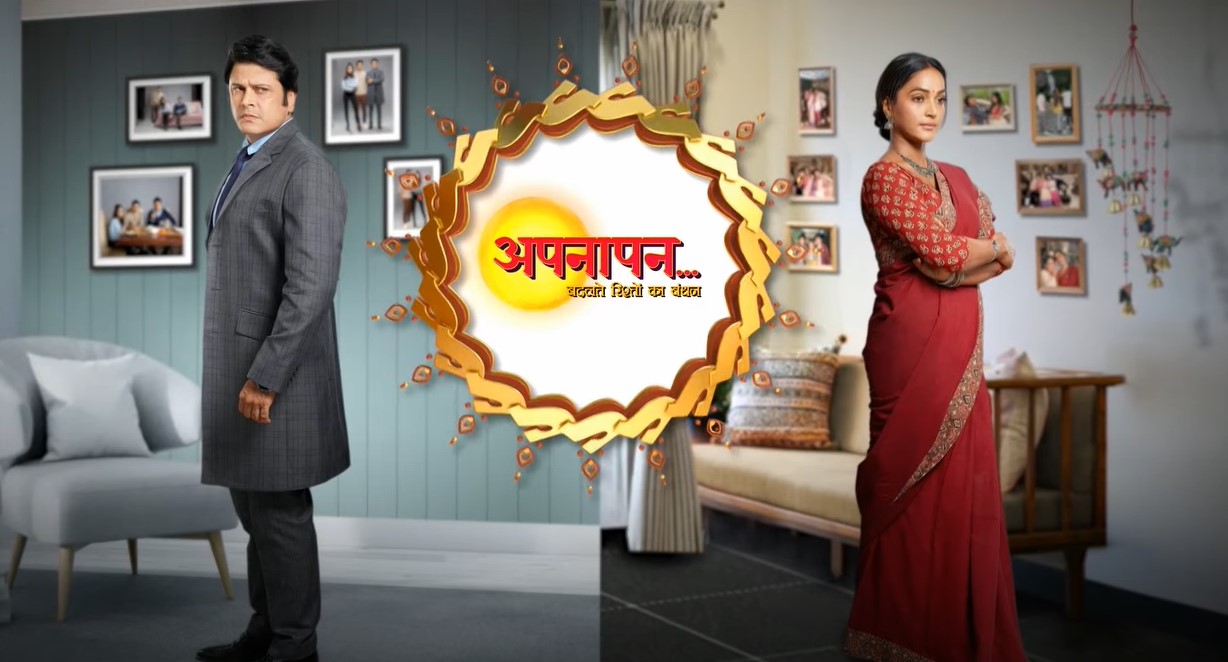 Apnapan 5th August 2022 Written Episode, Written Update on TellyUpdates.com
The Episode starts with Ranveer saying I didn't come here as an employee, I m not a waiter, manage your tone. Nick says give two pills to Pallavi, she has a bad headache, feed her the paneer tikka, she doesn't eat anything in stress, so her bp gets low. Ranveer says thanks for concern, I will manage from now, Pallavi and I are getting married. He asks Nick to have the paneer tikka. He goes. Nick says if Pallavi has decided to move on, then why is Ranveer's words affecting me. Lalita says I heard you, good. Ranveer says he forgets that he is Pallavi's ex, he behaves like Pallavi is still his wife, what's the need for insulting me, he is jealous of me, Pallavi has a right to move on or not. Lalita says yes, you conveyed this to Nick well, be like this. Ranveer says I will try. Nick hears them.
Nick goes to Pallavi. She asks him to go home if she is not well. She says its done. He asks her to come for a talk. She goes. Nick asks her to do anything she can, it is first hearing for the custody case, ask Rastogi and Ranveer to do anything. He says I will use all my power and contacts, I won't let you win this legal battle, my kids are mine, they will stay with me. She checks the notice. He says I won't forget what you did for me, but I won't forget my kids, I won't let you win this case. Pallavi cries. She says they are my kids, I have always taken care of them, I will take care of them, don't you understand. He says I do understand, they should also understand, its their choice.
Gagan and Badal come. Nick says I called you here, sorry, I wasn't with you all these years, I didn't know about you, there is legal custody battle in the court, as a father, I ask for one chance to prove that I m a good father. They get shocked. Nick says I hope you will give me a chance. Pallavi goes and cries. She thinks I m a mum and no one can defeat a mum. Barkha says you decided to stay with mom. Manna says yes. Gagan says I will join dad. They go to the tea stall. Gagan says I don't want to live here. Badal asks are we useless for you. Barkha says we can decide with whom we want to stay, I want to stay with dad. Badal says we should find their real problem, why did they take divorce. Manna says yes, maybe the reason doesn't exist now. Gagan says there is no use to do this, don't think of their patchup, they will give us anything we want, I will ask for a bike. Badal scolds him.
They argue. Manna says we will go home and talk. Badal goes. Pallavi walks to home, crying. She feels dizzy. She sees the neighbors outside. She sees some men taking the furniture outside. She asks them to stop. Goon stops her. The kids come home and ask what's happening. Harsh comes smiling. He says police can't help you, talk to me, let them do their work. Everyone gets confused. Harsh asks the goon to keep the chair there.
He sits there and smiles. He asks why are you so shocked, some drama always happens here, you knew that I had come with a purpose. Gagan asks did you know. Manna asks did you stoop so low. Harsh says yes, too low, just like Pallavi, when you were young, I was there, there was no one to handle me, she should understand why I hate her so much. Nani slaps him.
Harsh says you got hurt, I like it, I wanted this. Badal vents anger on the flour ball. Nick comes. He says you are venting anger on it, I thought to sit here alone, but you are here, your mom was perfect in this work. Badal says you loved her a lot, I can see it, what happened that you had to take divorce, who is Sonali. Nick worries. Nandy shouts Nick. Nick runs to her and asks what happened, are you okay. She asks for medicines. She acts and throws Nick's phone away. Nandy says I ate the wrong medicine, it's a reaction. Nick says I will take you to the hospital. He takes her. The neighbors gossip. Barkha says Manna has helped Harsh, its our house, we won't vacate it. Pallavi asks Barkha to get quiet. She asks Harsh what do you want. Harsh says you should pay attention to the family, you were busy in your love story, you didn't see the notice. He shows the notice. Nani says you had stolen the property papers.
Precap:
Harsh says I m the house owner, everyone get out of my house. He beats Gagan and asks him to beg on the roads. Pallavi says I m your mum. Harsh says you aren't my mum, get out and take your fav kids with you. Pallavi cries and leaves the house.

Update Credit to: Amena