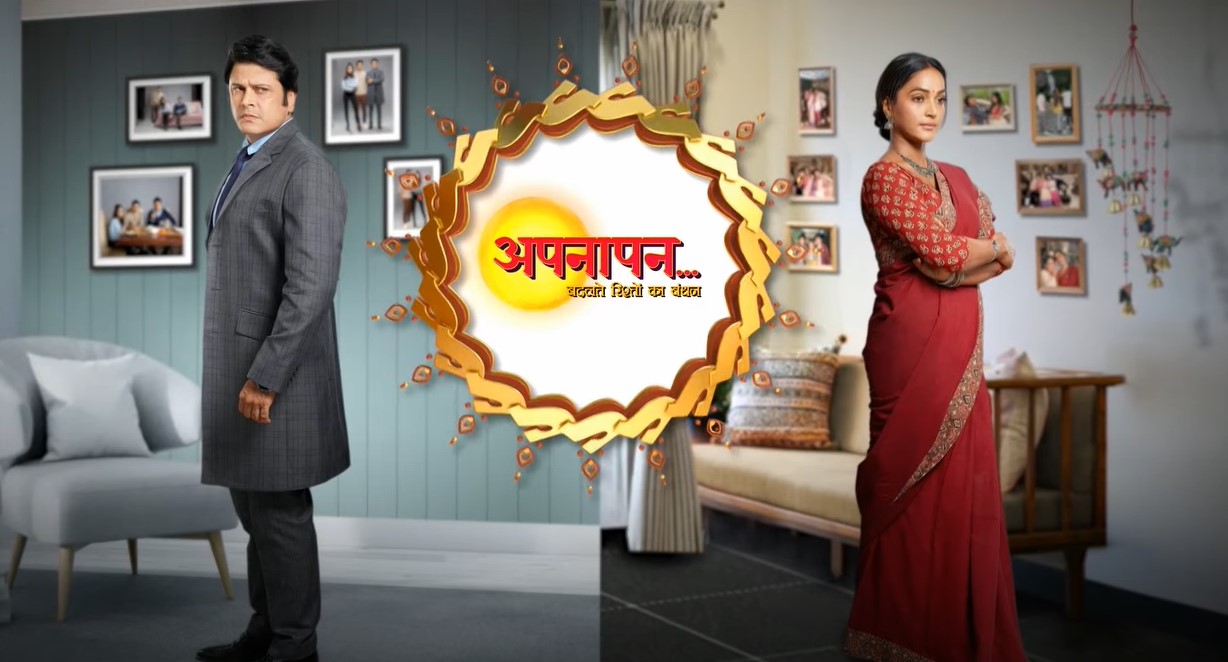 Apnapan 4th August 2022 Written Episode, Written Update on TellyUpdates.com
The Episode starts with Pallavi saying Nick is the best chef, why won't he train his son when his son dreams of becoming a chef. The reporters agree with her. The neighbor lady says Badal, we didn't know that you want to become a chef, no one can taunt small town boys. Manna asks him to tell his dream. Badal says yes, its my dream to come in the list of best chefs, Nick is my idol, who can be a better Guru than him. Everyone claps. Reporter says I heard Nick is alcoholic. Pallavi says I m his ex wife, its not tough for an ex to prove husband as an abusive one, Nick wasn't such and he isn't such even now. The lady says if Nick is so great, then why are you leaving him and marrying Ranveer.
Nick says we can't hear nonsense about Pallavi's character from her neighbor, she has raised three kids alone, she has to take care of an elderly lady, we are at a professional event, I won't tolerate the insult of any woman here, its Pallavi's own choice, I don't think she is answerable to anybody, Badal's matter is over, I want to tell you something, every father wants to pass on his experience to his children, I always want Badal to become successful in every field, its my responsibility and right also, he also has this passion in his genes. Badal cries happily. Reporter says I m also a single father, I understand, hats off. Everyone claps. Nick says I have an announcement to make, this café is of Badal from today, because he is talented and he deserves it. Everyone claps. Harsh thinks wow dad…. Badal hugs Pallavi. Harsh leaves. The kids hug Pallavi and Nick. The lady asks Pallavi with whom will the children stay after your marriage with Ranveer. Manna asks do you have so much concern for your daughter Bitti, this is a press meet, go and have kitty party at home, we will send snacks and juices from Badal's café. The lady taunts Nick. She asks did you come here for some days, or leave. Gagan says he won't go anywhere. Barkha says we will be one family. An old lady comes there. Shanky asks the media to come to the food counter. Lalita says its on us today. Nick says no problem, please enjoy. Everyone eats the food. Pradeep calls Rastogi and says Nick got the media's support. The man says Nick got his entire family on his side.
Nandita asks Nick to come. She says you are giving this café to Badal, its your children, you should have discussed this business matter with me. He says its about my family, can we talk later. He goes. Pallavi laughs seeing the staff fighting. Shambu compliments her. Lalita asks her to stay happy, everything will get fine. Pallavi says I wish this happens.
She says Nick said he wants to fight with me, I got a little relief here. The kids talk about their future. Gagan says I have to think for my future. Manna asks what about mom, and this family. Barkha says mom told about marriage, you were so shocked. Manna says yes, I was affected because mom wasn't with me till now, I got selfish, I realized she is a woman too, she has a right to stay happy. Barkha asks are we okay with her second marriage. Gagan says we will discuss later, its special day for Badal.
Nick and Pallavi work in the café. She gets dizzy. He gives her water. Lalita and Shanky smile seeing them. Shanky says when we think they will get against, they get together. Lalita says Pallavi did an amazing thing. He says like Nick dealt with Vishal. Nick gets a call and leaves. Pallavi also leaves. She feels tired. Ranveer comes with a cup of coffee for her. She smiles. Nick sees them talking. He angrily crushes the coffee glass. Coffee falls over his hand. Nandita comes to help. She sees Pallavi and Ranveer. She takes Nick with her. She shows the custody papers. She says look at her cleverness, don't get caught in her games. Nick says I know what to do. He collides with Ranveer. He asks what are you doing here, when you are suspended from the café.
Precap:
Nick says tell your lawyer Rastogi and Ranveer to do anything, I will try my best. She sees some men taking the house furniture outside and tries to stop them. She cries.

Update Credit to: Amena